Posts tagged
tech
0
Well first off, sorry I haven't been posting much but I've been quite busy with a sleepover and work and stuff but I will soon be adding lots of useful and interesting pages.
Now for the good stuff. If you haven't read my previous post about me hopefully getting my Razer Lycosa Mirror Special Edition Backlit Keyboard then you should probably read it first.
I talked about my awesome new keyboard but I wasn't able to get it until now. I just went to fry's yesterday and bought it and I love it! The backlit keys are so nice for typing in the dark =)
Anyways, just wanted to let everyone know about my awesome keyboard. lol =)

4
Hello Everyone! I just wanted to show you guys my awesome new keyboard which I'm getting once I get 30 more dollars. It will be so sweet because as of now I have the crappy mac keyboard and it has all sorts of crap in between the keys. Anyways my new keyboard is the Razer Lycosa Mirror Special Edition.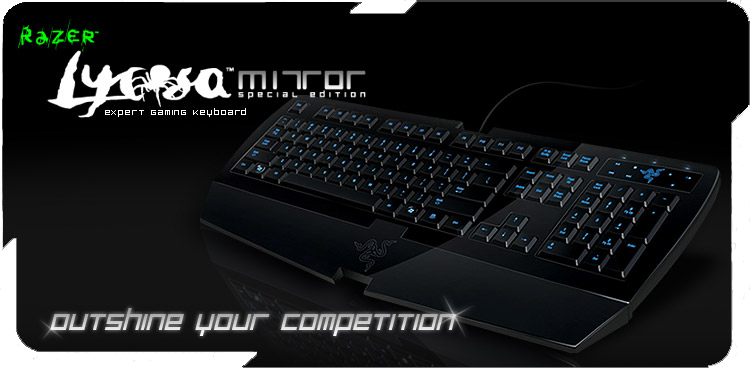 Its technical specifications are:
High gloss mirror finish keytop
The Razer Lycosa Mirror Special Edition rocks with an awesome high gloss mirror finish keytop that looks good and feels even better for high performance gaming.
Selective Anti-Ghosting WASD Gaming Cluster
The Razer Lycosa Mirror Special Edition addresses "ghosting", signal failure that occurs when you press multiple keys simultaneously on traditional keyboards. The Razer Lycosa Mirror Special Edition provides for selective anti-ghosting around the WASD gaming cluster to allow more commands to be entered at any one time without the signal failure.
Slim Keycap Structure with Hyperesponse™ Technology
The Hyperesponse™ keys of the Razer Lycosa Mirror Special Edition reduce key latency and maximize response for critical actions during competitive gameplay ensuring fast, accurate and consistent actuation response in the intense frenzy of competitive gameplay.
Backlit illumination with WASD cluster lighting option
Fully-programmable keys with macro capability
TouchPanel™ easy access media keys
Gaming mode option for deactivation of the Windows key
10 customizable software profiles with on-the-fly switching
1000Hz Ultrapolling™ / 1ms response time
Earphone-out and microphone-in jacks
Detachable wrist rest
One integrated USB extension port
Approximate size:

469mm (length) x 168mm (width) x 15mm (height) – without wrist rest
469mm (length) x 221mm (width) x 15mm (height) – with wrist rest

I can't wait to get it! =D Here's the link to the site. (Click Here)